Need beautiful maps of Singapore on your website?
The new Gothere Maps API will be available soon.
Contact us for pricing
The Gothere Maps API is an
Application Programming Interface
to Gothere's web services, such as our maps, address geocoder, public transport and driving directions, as well as nearby amenities search.
Contact us
today if you're interested to find out more.
Why use the Gothere Maps API?back to top
Number 1 map service in Singapore
gothere.sg helps 500,000 commuters find their way around Singapore every month. Our iPhone app has been downloaded more than 50,000 times despite stiff competition from the native Maps app.
Compatible with Google Maps API
If you're familiar with the Google Maps API, you'll already know how to develop with ours. Switching to our API can be as easy as changing a few lines of code!
Competitive pricing
With 200,000 free map loads per year, and a tiered pricing model based on your usage needs, you're guaranteed to get the most value with our API.
Trusted by these companies

… along with hundreds of other SMEs and government departments all over Singapore.
---
Rich and up-to-date maps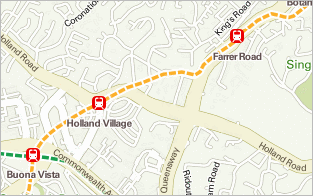 Gothere maps are updated all the time so that they are as accurate as possible.
Public transport directions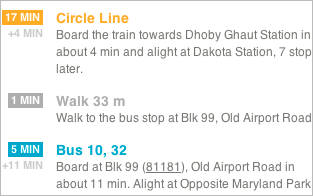 Get access to fast and accurate multi-modal public transport directions.
Drive directions with ERP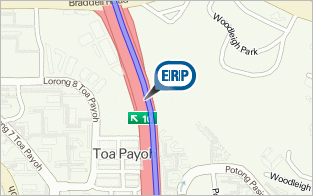 Drive directions come with routing features such as expressway and ERP avoidance, as well as real-time ERP costs.
---
Taxi fare estimations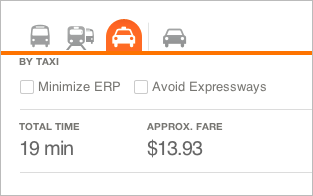 Taxi fare estimation includes a breakdown of the different applicable charges, such as CBD, peak hour or late night surcharges.
Public bus stop network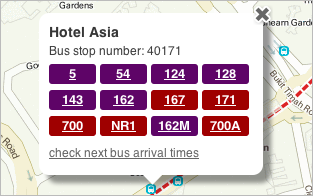 Search or browse bus stops and see more information on bus services, as well as arrival times through SBS mobile IRIS.
ERP gantry locations and rates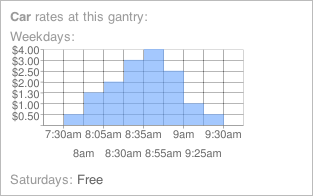 View ERP gantries on the map, and tap to see information on upcoming ERP charges for the day.
---
Carpark rates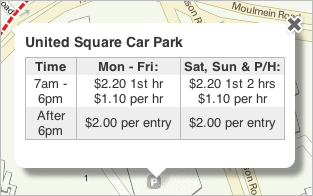 Browse a list of carparks around your current location, or try searching for a particular building (e.g 'Vivocity') to see its carpark rates.
Custom markers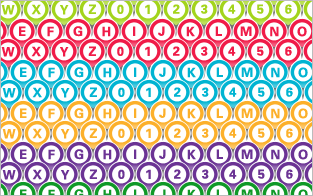 Use our set of beautiful markers, or design your own to suit your website's style.
Address and reverse geocoding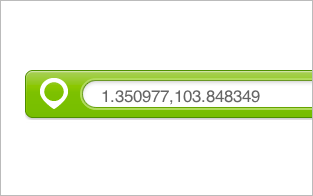 Coordinate of any address in Singapore can be found and be placed on the map, vice-versa.
---
Search nearby amenities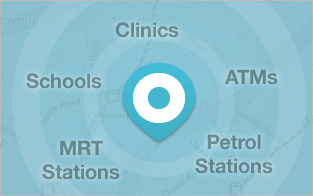 Get information on the amenities around a certain location. Amenities include ATMs, clinics, schools, train stations, and petrol kiosks.
Static Maps API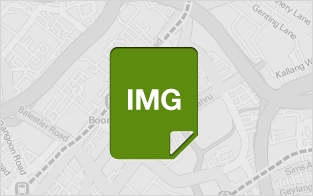 Create map images that can be used in an <img> tag without any Javascript. You may even add markers or route polylines to the image.
---
Frequently Asked Questionsback to top
What can I use the API for?
The world is your javascript-enabled oyster! We are almost 6 years late, but we believe the best is yet to come! Come on, let your creative juices flow and show us what you are capable of building!
How much does it cost to use the API?
The API is free to use for up to 200,000 map loads a year. If you require more map loads or enterprise support, contact us for the pricing.
---
Why is the API similar to Google Maps API?
We believe that map APIs should be interoperable. It doesn't make sense for us to create a Gothere Maps API that locks you into using our services. By creating an API that is similar to the Google Maps API, a developer who is already using the Google Maps API will be able to switch over to the Gothere Maps API in a matter of minutes.
Can I use the API commercially?
Yes, you can use the API commercially. However, do check our terms of service to find out what kind of services are against our terms.
---
Can I use the API in an intranet?
No. The API can only be used in a publicly available website or application. However, drop us a note and we can work something out.
I need help with the API. Where do I go?
Visit our developer forum! Post your question there and we promise we'll get back to you as soon as we can. Besides, you can look at what other developers are up to.
---